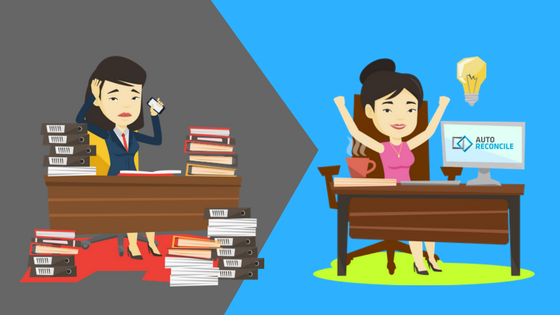 Manual and Automated Reconciliation Differences
Feeling stuck in your traditional statement matching?
AutoReconcile believes that automated reconciliation is more effective than the traditional reconciliation process.
Manual Reconciliation
1. Receive aged payables and statement files on paper.
The sad truth is that some people still prefer to receive hard copies of documents despite the fact that these may be available online. As they accept statement documents, these are filed and fill up the stockroom. At the same time, different types of invoices are received which will be matched with the statements by the end of the month.
2. Matching invoices and aged payable files manually
The monthly documents are gathered together and each transaction needs to check line by line. This process helps to identify if the values are correct. Cross-checking the documents sound easy, but we are not just talking about one statement here. Depending on the extent of the business and their suppliers, statements and invoices could be voluminous every month.
3. Identifying discrepancies
After checking the numbers, it is time to sort out correct, missing and erroneous statements. This procedure will show if the vendors sent multiple or incorrect entries which you have to clarify from them.
4. Follow-up calls
Once the manual statement matching is done, it is time to clarify with vendors the mistakes noted. Calling and emailing are the most effective ways to communicate with them.
Automated Reconciliation Process
With the help of product innovation, there are a lot of accounting tools that will fit your auditing. An excellent system such as AutoReconcile will help you optimize the reconciliation procedure.
1. Upload statement and aged payable files
AutoReconcile requires documents to be uploaded digitally. If records are in CSV or PDF, everything is ready to reconcile.
2. Matching invoices and statements automatically.
Once the files are in the system, the dashboard displays the status of reconciling statements in different accounts done. The dashboard also managed the data accordingly.
The results of automating the statements will only take minutes compared to the manual reconciliation that lasts up to days or weeks.
3. Focus on Exceptions
The system will present the statements whether matched or unmatched. Exceptions pointed out should be resolved straight away.
4. Share Results
AutoReconcile has the capability of sending exceptions noted to concerned suppliers thru email. No follow-up call is required.
The process is quite the same indeed. However, the difference is how automation helps save time and effort from double checking the statements. The benefits will be more significant efficiency and productivity in the workplace.
Do you want to explore how automated reconciliation works for your business? We are glad to present you a product demo and trial! Reach us thru email <support@autoreconcile.com.au> or call us at <0733769474>.