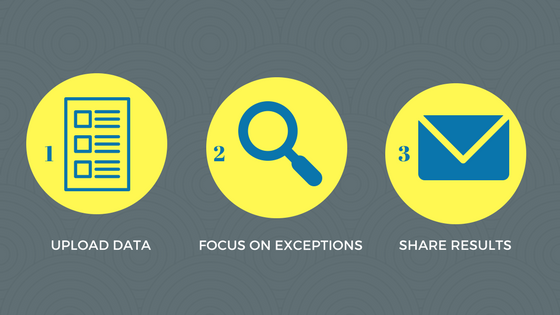 Automate your Statement Matching in Three Easy Steps
Why do we consider to operate user-friendly systems like AutoReconcile?
AutoReconcile has three easy steps for faster and accurate statement matching.
Our web service program does not need any installments and downloads. These are among the roadblocks that customers have to deal with for applications on the computer. Furthermore, we provide excellent training and advice for the whole affordable package.
Step 1: Upload the Data
AutoReconcile can upload supplier and purchaser statement, in any form of document (comma-separated values [CSV], Jpg, Excel sheet).
Step 2: Focus on Exceptions
After uploading the statements, the files are ready for statement matching. For a few hours, you will see the results, such as missing, fraud, or error transactions. AutoReconcile also has special filters that can categorize your statements from dates and values.
Step 3: Share Results
Issues must be resolved quickly by connecting to the suppliers who provided you the statement. AutoReconcile can send the exceptions directly to their e-mail. You do not need to chase them or follow up them through calls.
Try AutoReconcile in your system for FREE in our one-month trial. Find out more about this offer here: http://www.autoreconcile.com.au/wp/book-a-free-trial/